Artifact is an immersive visitor experience for The Carnegie Museum of Art. Visitors pick their own paths to view what is most meaningful to them, contextualize art with interactive and immersive content specific to each object, and share their own ways of experiencing art with the museum community.
Social movements like Decolonize this Place are pushing museums to represent a more accurate picture of art history.
The Museum of Modern Art undertook a massive rehang of its collection, disturbing the old order and hanging a brutal painting of a racial riot next to Picasso's D'amoiselles D'Avignon.
The Denver Art Museum just opened from a four year renovation, where they placed a new prominence on on fashion, textiles, and nonwestern objects.
01
Growing movement for art museums to reinvent and

recontextualize

their collections
Bringing more and more objects to one place will become less relevant, versus how you translate the knowledge, understanding, and complexities of these objects to a wider audience.
​
Max Hollein, Director
Metropolitan Museum of Art
We're hoping to spark dialogue. Some may be for it, some may be against it, but the conversation is important.
​
Alyssa Velazquez, Curatorial Assistant
Carnegie Museum of Art
Museums are now playing an integral role in shaping and developing identities and bringing different community groups together...
​
Melbourne Forum
If the white cube has never been truly 'neutral' – it is intentionally coercive – then it is also not, or is no longer, a space in which the infrastructure and imbalances of the artworld conveniently fade out.
​
Martin Herbert
ArtReview
How do we start addressing artworks that are displaced from their original place and context?
How do we start addressing artworks that are displaced from their original place and context?
03
The problem of
the White Cube
Problem Space : The 21st Century Museum
An immersive multi-sensory experience for museum visitors.
MDes/MPS IxD Studio
Carnegie Mellon University
Fall 2021 (5 Weeks)
Jonah Conlin
Matt Muenzer
Yeonjin Park
​
Strategy / Ideation
Exploratory Research
Concept Development
UI Wireframe
Video Production
​
Figma
Adobe After Effects
Adobe Premiere Pro
Adobe Illustrator
Rhinoceros 3D
​
How might we
enrich

learning at art museums, in a way that is founded on both the diverse histories behind the art and visitors' individual curiosities?
How might we
empower

curators to create these learning experiences?
Ticket Desk
01
Purchasing Passes
Museum-goers purchase Artifact passes at the ticket desk. Staff direct visitors to the Artifact Experience desk to pick up headsets.
Forum Gallery
Borrowing Equipment
Visitors show their ticket to borrow a Hololens 2. Staff assist with fitting and calibrating their headset.
Once set up, visitors go through with a tutorial to learn Artifact's gestural interfaces.
Forum Gallery
03
Choosing Your Path
Visitors begin by choosing from: 1. a fully guided tour from the museum's curatorial staff 2. a community tour published by other museum-goers 3. a custom tour generated based on what the visitor wants to see 4. browse the collection and Artifact content independently.
Atrium / Hallway
04
Getting To The Gallery
Lightweight augmented visuals guide visitors to galleries, and the pieces on their chosen pathways.
Gallery Entrance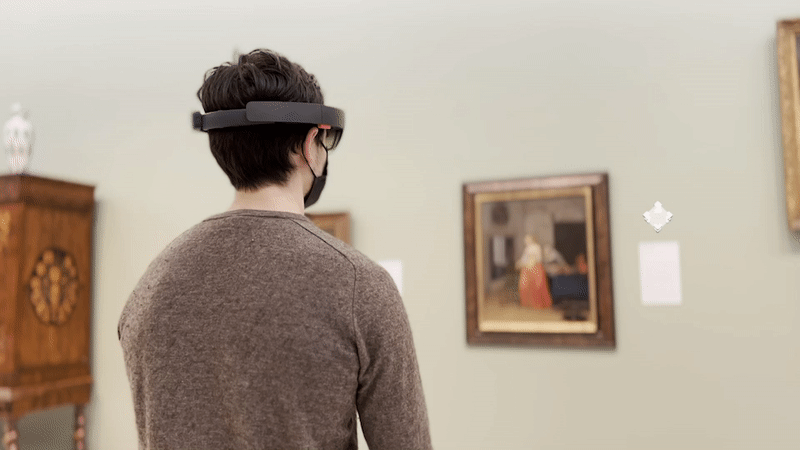 Discovering Interactions
Virtual indicators adjacent to wall text signal where visitors can interact with Artifact content.
Galleries
06
Interacting With Art
Visitors learn about works by browsing across four categories of information: General information, Artist Background, Process and Craft, Historical Context. Within each, visitors may read up on the pieces, as well as engage and interact with guided content.
Galleries
07
Your Personal Guide
Visitors are guided through galleries, interacting with information and experiences specific to each piece on their tour.
Experiencing Art
Anywhere
08
Contributing Your Expertise
When following customized tours or browsing independently, visitors can assemble and submit their own path as tours in an online community. Museum staff moderate Artifact community tours and highlight them in the experience select interface.
Forum Gallery
09
Remembering Your Tour
When they wrap up, visitors return their headset to the check-in desk, and receive a memento card showing their path through the museum. A QR code links to a set of digital keepsakes showing the works seen during visitors' experiences.
Reflection
The Process
1 week
01
Exploratory Research
Defining the Problem Space

Exploring technology in museums
1 week
02
Concept Development
Storyboarding

Systems' Diagram

Journey Map
1 week
03
Defining Artifact
Visual language

AR User Interface
2 weeks
04
Final Production
Shot list

Video Storyboarding

Visual Assets

Filming/Editing
"Pin" feature from Mixed Reality Toolkit
After being given the prompt to improve the user experience of a museum, we wanted to understand the current challenges and future opportunities of a museum experience. We've conducted interviews with a curator at the Carnegie Museum of Arts as well as looking at the larger discourse happening around the changing roles of museums in our society.
Our guiding questions to designing a multi-sensory experience at the museum are (1) How might we enrich learning at art museums, in a way that is founded on both the diverse histories behind the art and visitors' individual curiosities? and (2) How might we empower curators to create these learning experiences?
Interview with CMOA curator
Visits to CMOA galleries and exhibitions
Our team decided to use HoloLens 2 as the main device of interaction after testing the device ourselves. Its given gestural and auditory capabilities were compatible with what we strived to achieve within our designed experience.
In defining the types of gestures for interactions within the HoloLens 2, we looked into the contents of Microsoft's Mixed Reality Toolkit- MRTK asset library for references and found six frequently used gestures to be relevant to our project. Unlike screen based UI, augmented reality exists in three dimensional space - dividing the types of gestures into two categories - Nearby and Far Away gestures. We identified Tap, Scroll, Zoom, Grasp, Move and Open Menu, each with two sets of movement.
Another important feature we wanted to utilize was persistent AR content, meaning that the spatial recognition capability enables the user to "pin" the UI based on the actual position within the space. These "pinned" content exist within the virtual space even if it leaves the user's point of view.
Bridging the Gap
Museums can only communicate so much with wall text and the other tools they have. Augmented Reality can provide additional, seamlessly connected channels for what you can learn about art. Opt-in interactivity and user choice afford museum-goers a wealth of new information without overloading them.
Nimble Curation
Augmented reality can empower museums to create new ways of experiencing their collections more nimbly, and reach out to new and changing audiences. In contrast to spending years building a physical exhibition, curators and educators might gain a tool to quickly enrich visitor experiences with a diversity of pathways that can offer all at once.
Focus on Art
Physical presence is very important to art museums and Augmented Realities do not have to interfere with this connection. Augmented information can range from peripheral to immersive, the amount of cognitive load that the AR content demands.
Responsive Museums
Museums collect rigorous data on attendance, but outside of surveys are limited in what they can learn about visitors beyond that.Augmented Reality can provide a diversity of information about what museum-goers see and how they make their way through galleries. A museum could leverage this data to responsively improve curation of not only virtual, but also real-life content.
From speaking with museum-goers and curators, our industry research, and our own experiences at CMOA, we saw a lot of potential in developing multi-sensory experiences through the use of Augmented Reality to empower both museums and visitors to create informational learning experiences for these following reasons:
Why Augmented Reality in Museums
Defining the Problem Space
Exploratory Research
Workshop for a full user experience scenario
We shaped the flow of the AR experience through storyboarding from a user's perspective. Storyboard exercise helped us narrow down how the AR technology can be incorporated into the current museum experience as well as adding what could potentially enhance the existing experience. These are the following factors we focused on:
Meeting various needs: allowing specific learning experiences for academic visitors, offering curated guides for a first-time visitor, creating diverse guides for repeated visitors, etc

Content-driven Interactivity: giving specificity to the AR interaction based on the artwork's context

Personalized reflection: offering individuals to reflect upon their experiences through reviewing and creating their own physical and digital keepsake

Sharing your experience: providing an opportunity to share one's museum experience before departing the museum
Storyboarding
Concept Development
Defining Artifact
Visual Language
Legibility
For legibility of the text in the AR environment, we chose Helvetica Neue, a geometrical typeface.
Adapting the current grayscale colors with one accent color, Artifact's color-palette was created.
Memorable
The name "Artifact" was inspired by being able to write and interpret the word in different ways.

Artifact I AR tifact I ART-(effect)

Intuitive
We created logo of Artifact inspired by CMOA's current visual identity; four angle brackets animating into a cubic symbols which intuitively presents the AR aspect of the project.
Improve the visitor experience at the Carnegie Museum of Art in Pittsburgh. Possible area includes way-finding, information browsing, experiential learning and social interaction.
We designed visual information with high contrast colors, clear typography, and simple layout.
Reachable
Fewer, more obvious interaction targets
Readable
High contrast colors, typeface and layout
"Giving the audience an option to forge their own path and getting to publish the tour is great!"
Aligned with our intention, she noted that experience selection would be most useful for large scale shows, giving visitors an opportunity to narrow down the field or to pick specific narrative that they want to explore. She also thought that Artifact was effective in addressing specific interest from a visitor and tailoring an experience for different visitor types.
Solving Existing Problems
"I often wished we could use google maps to navigate within the museum."
Identified as one of the problem areas we can tackle with the augmented reality technology, she found the way-finding feature to be very helpful since it is a constant issue that the museum is trying to deal with.
"People touch artworks a lot more than you'd imagine."
She mentioned that with any technological devices in museums, cost and maintenance are issues. It requires dedicated time, space, and staff to maintain. Also, she raised a concern around the issue of people touching the artworks and how this might affect existing behaviors.
4
"(Artifact could be for) something that it once was or what it could be in the future."
As a curator, she spoke about how this tool can be used for "giving you something that is missing". For instance, she thought Artifact can be used to demonstrate the conservation efforts by comparing the before and after or showing related artworks in storage. It was great to hear her ideating on Artifact's potential use cases from a curatorial perspective.
We were able to show Artifact to a curator at CMOA and get her feedback.
Feedback
Future Works
The systems designed for Artifact present many opportunities to build a complete service, particularly in how to leverage data on how visitors experience CMOA. We prototyped a video wall for the atrium showing show community tours and visualizing the most popular art in the galleries. Importantly, this screen lets museumgoers without the AR experience connect with Artifact-generated content.
Artifact is a scalable product. Although we designed our solution around specific challenges at CMOA, the product's framework can be easily applied to revigorate other public art collections.
We'd love to continue building Artifact by prototyping with AR software and developing in Unity for Hololens. In the long term, CMOA's relationship with CMU and stature in the art world put it an excellent position to work on this and related future-looking experiences.
Systems' Diagram
Thinking about the larger system behind the technology that enables the experience was a constructive exercise. It allowed us to think about the service at different scales - amount of input and output data, privacy, as well as from the data management perspective of museum staff who will moderate the AR contents.
Journey Map